See on Scoop.it – Enterprise Social Media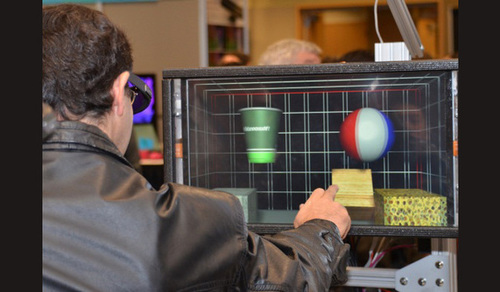 At Microsoft TechFest 2013, Microsoft Research is showing off a 3D touchscreen with haptic feedback. This display, called 3D Haptic Touch, provides active resistance (haptic feedback) as you push 3D objects around a virtual workspace.
If you're a little bit confused right now, don't worry — it will all become clear once I explain the actual mechanics of the device. To start, it looks like Microsoft Research built its own monitor by putting a multitouch overlay on top of a standard 3D display. Between the overlay and the display, the researchers place sensors (force transducers) that can detect how hard you're pushing on the touchscreen. The monitor is then attached to a robotic arm, which can move back and forth. For what it's worth, a standard 23-inch 3D touchscreen can now be had for around $500.
Mike Ellsworth's insight:
This is Minority Report trying to become real.
See on www.extremetech.com